Directly on the sea to experience the pleasure of a relaxing holiday, surrounded by a fresh pine forest and a pristine sea, in a fun and carefree atmosphere.
How to spend a week among friends at Maremma Sans Souci directly on the sea, in close contact with nature, you will be conquered by the smells, colors and beautiful landscapes. Staying in one of our Cottages or in the Easy and Chic mobile homes, will make you discover a different, more authentic, more exclusive holiday style. It is a choice that means open air, relaxation, contact with nature, without sacrificing comfort.
On the beach, free and equipped, several times awarded with the 5 sails of Legambiente, a renowned recognition that certifies the high environmental quality, you can try the beach relax version, straw umbrellas and comfortable mattresses. At Mama restaurant you will find unmissable local specialties, with ingredients at the top of quality and refinement, also available dishes for vegetarians and people with food intolerances. For more in the restaurant you will find a classic Neapolitan pizzeria, to try.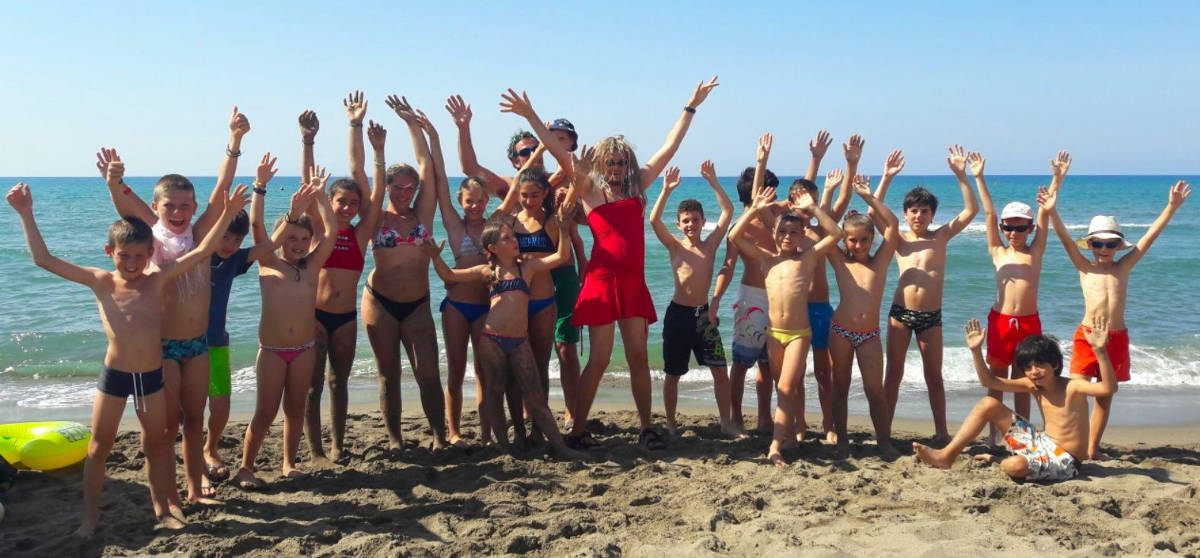 Fun on the beach – Maremma Sans Souci
A week of sport and good food.
On the beach you can have fun all together playing beach volleyball so as not to miss out on a bit of sport. If, on the other hand, you are curious and love to explore the sea, turning to the Sestante Diving Center, you can book lessons, courses and hire the necessary equipment to immerse yourself. If you love golf, then moving a few kilometres away you can play in one of the most popular golf courses in Italy. At the Golf Club Punta Ala, an 18-hole par 72 course, you can play and admire magnificent landscapes. Soft lush hills will accompany you hole after hole.
Friends, relaxation and new discoveries.
Returning to the sea, if your desire for sport has not yet been satisfied, then we advise you, kite surfing, let yourself be carried away by the wind on the water. If you have never done so, qualified instructors will help you, with some little foresight you will have fun in complete safety. Before leaving, you must definitely try an enogastronomic journey. The charm of discovering the territory through its flavours, smells, colours, where excellence is the watchword. The Montecucco wine route and Amiata flavours meanders between the Maremma and the Amiata, where the protagonists are the, the Montecucco doc, the chestnut of Monte Amiata, the Tuscan pecorino dop, the truffles, the honey, the pecorino , the savoury biscuit of Roccalbegna, just to start with. The rest, find out!