A glamping accommodation, an exclusive and unusual way to spend a few days surrounded by nature without sacrificing comfort and style.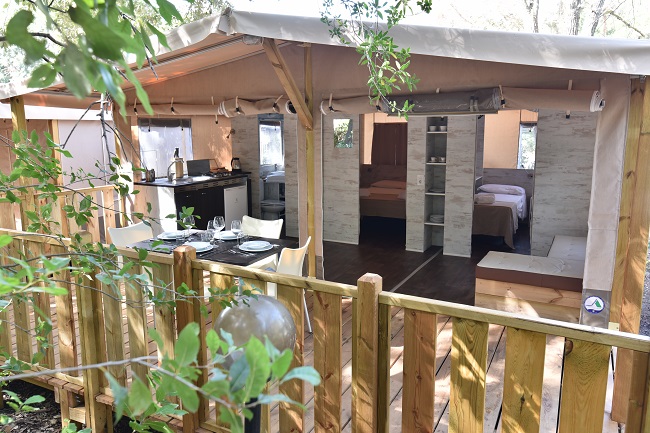 Safari Lodge Tent – Camping Village Maremma Sanssouci
The Safari Lodge Tent perfect for a holiday with friends
One of our most popular glamping accommodations, a new way to experience your camping holiday by the sea, surrounded by nature without sacrificing comfort and style. The Safari Lodge Tent can accommodate up to five people, it consists of a double bedroom and a triple bedroom with bunk beds, bathroom with shower and a living area with equipped kitchenette and a large veranda. Everything you need to relax for a few days at the seaside on the campsite.
Discovering the wonderful beaches on the Tuscan coast
The whole coast offers a great variety of landscapes and beaches, some easily accessible, others hidden and a bit wild, reachable only on foot or by bike. One of the best known is Cala Martina, close to the more famous Cala Violina, small coves that are true jewels of nature. The beach of Cala Martina is completely free, here you will find a pebble beach and a turquoise sea. This beach is located between Follonica and Punta Ala, within the Bandite di Scarlino Nature Reserve, a protected area set up to preserve the integrity and beauty of these places. It's a bit of a struggle to get there, but you will be amply rewarded by the spectacle that awaits you once you arrive.
Maremma food and wine tours
When it comes to food and excellent products, the Maremma offers the best. The value of the food and wine products is recognised and known to all, simple products of high quality. Ancient traditions, flavours and knowledge handed down over the centuries. The king of Tuscan products is undoubtedly wine, and among the most renowned wines, Morellino di Scansano DOC and DOCG are grown and produced here. The other protagonist is olive oil, exclusively extra virgin. Other unmissable products are cheeses, especially pecorino, excellent meat from grazing animals, sausage and salami, honey, truffles, mushrooms, saffron and biscuits. Real delicacies, not to be missed.