Plan a different holiday from the usual one, a week with all your friends, with adults and children. For those who love the outdoors and do not want to give up comfort, the Maremma Sans Souci offers you an unmissable opportunity, take advantage of it.
In the heart of a shady pine forest, with direct access to the sea, to a spectacular sea, you will spend an unforgettable holiday. In order not to miss anything, we advise you to choose the exclusive Safari Lodge Tent or Country Lodge Tent, with everything but really all you need to live a luxurious but sustainable experience in perfect harmony with the surrounding nature. Alternatively, you can choose the Mobile Homes, or one of our well-equipped Cottage in the Cottage Club.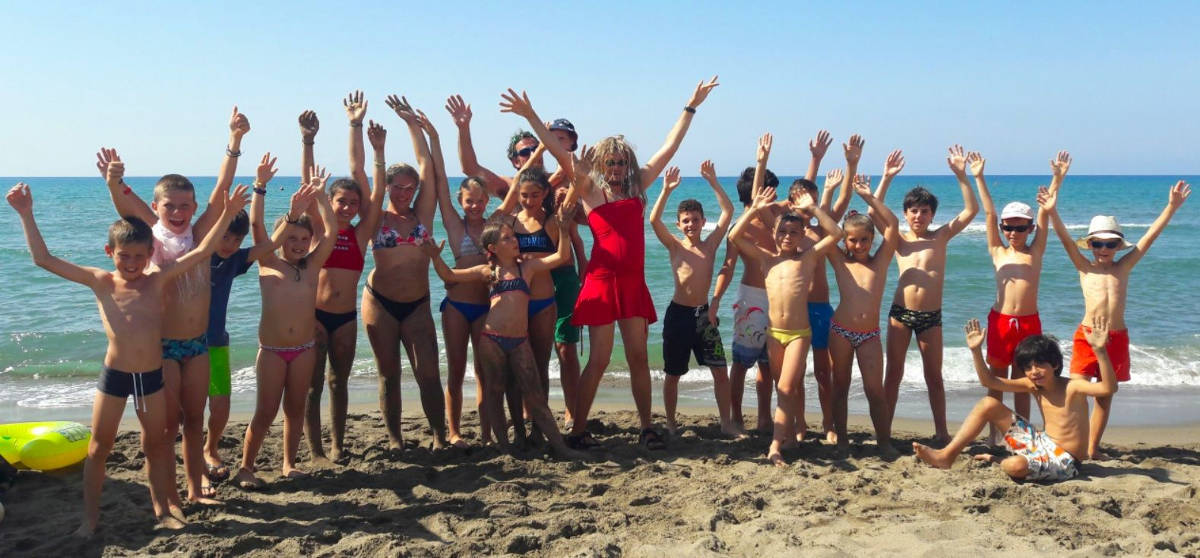 Entertaiment – Maremma Sans Souci
Fun and welcome for friends
On the beach you will find our specialized animators who will offer you fun activities, games for everyone but with a particular attention for the little ones. At the Mama restaurant, a group menu is available for our guests, with dishes for vegetarians or customers with special dietary needs. Try the calamarata (a dish made of squids) and the tegamata (a "cucina povera" meat dish), delicious. There is a takeaway service. We will not fail to satisfy your every request!
The Maremma, unforgettable landscapes and unspoiled nature
To spend pleasant days together you can start with a little 'sport, the beach is available to guests a beach volleyball court, you can organize fun games. At the South Wind School you can rent windsurf boards, canoes or kayaks to explore the coast, or try the latest arrival, the sup, where you will learn to stand up paddling, hilarious. For those who love cycling there are so many alternatives, you can rent a mountain bike and try your hand at paths and trails for amateurs.
For the most expert of the discipline and for those who want to have fun on enduro and freeride routes there is a mechanized climb service. Contact the Bagnoli Bike in our facility, you will find assistance and expertise at your service.
After a little sport to make your holiday unique, discover the wonderful places that are just a few steps from the Maremma Sans Souci. You will discover a wild and luxuriant nature, perfectly preserved architectural beauties, that will make you relive the charm of the millennial history of this land. Start from the naturalistic beauties, the Natural Park of Maremma or better known as the Uccellina Park, a protected oasis where you will be able to see, if you are lucky, a wild boar, a fox, wolves, hawks and many other birds that in this oasis have found the ideal environment for living. In this place dominated by nature there is also space to see architectural beauties, the Abbey of San Rabano dating back to the twelfth century or the Torre dell'Uccellina. Along the paths you will enjoy unforgettable views and breathtaking glimpses that will move you.